Barton House Take Over!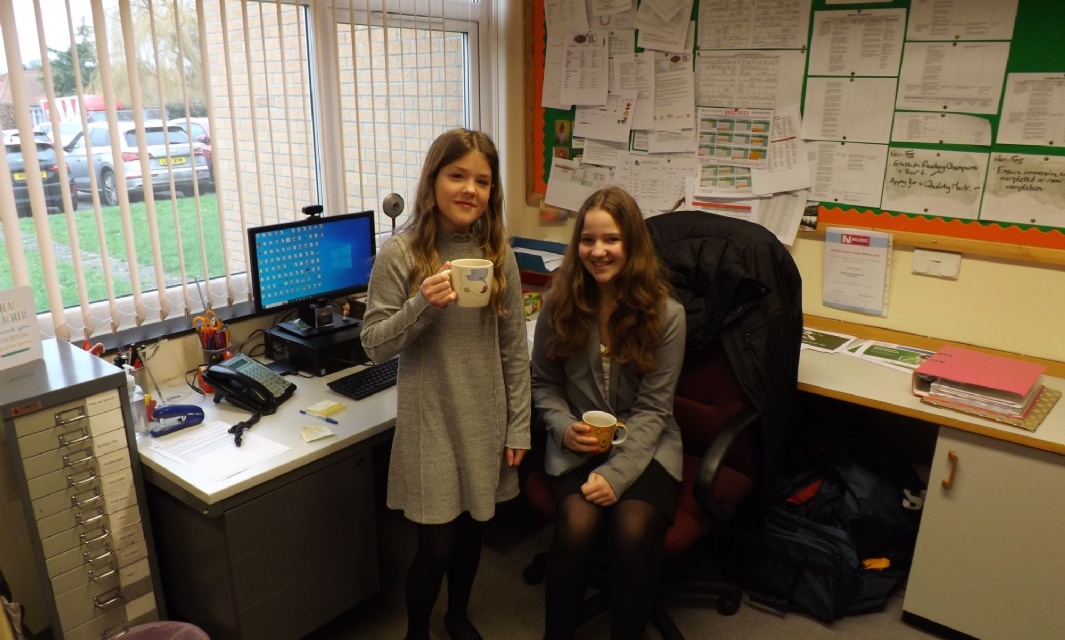 Barton House Captains become Headteacher for the day!
Hello, we are the Barton House Captains, and we have both been Headteacher for the day! We have had a very busy day, so please do not be fooled by the tea-drinking. This was well-earnt.
We have carried out a learning walk across the Federation of schools looking at pupil engagement and interaction. We then led a good work celebration assembly at the Infant school. Whilst we were there, we created games at break time for the younger ones; we held and led an Infant Leadership Team meeting and discussed them designing a new Ormesby St. Margaret with Scratby Parish flag. We shared what we thought was unique about both villages or what we could see there and felt these were important designs that could be drawn on the flag. We wait to see what the pupils come up with.
Upon our return to the Junior school, we held a Junior Leadership Team meeting with our peers and decided upon a date for our second-hand book sale. We think we are going to promote it for Wednesday 15th March 2023. We were both keen to spend some money on the school, so we asked teachers what was needed and ordered some new stationery. Ordering things is not an easy process. Our final task was writing this Headteacher's blog on the website.
We both really enjoyed the day. By the Barton House Captains.
Thank you ladies for your commitment to the day in both schools: you were a pleasure to have in role and have set a very high benchmark for the House Captains that follow you.
There would have been two football fixtures to report upon this week, but sadly, the fixtures could not be fulfilled for both boys' and girls' teams, so we will ensure these are re-arranged. Thank you to all families for their support to and from fixtures and for the enthusiasm of the players.
Next week, Year 3 travel to the Time and Tide Museum and Year 4 go off to Flegg High Academy to finish off their drama performance work that they have been working on with Year 8. On Friday, there will be a sporting enrichment of Tag-Rugby for all classes.
Have a great weekend everyone!